"Linda K. Laffey is amazing, and really helped transition me through a tough season of my life. She was able to speak such truth with grace, and help me see the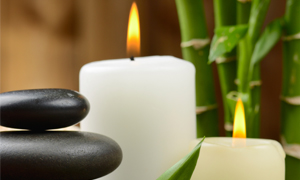 toxic situation I was in. She not only provided a safe place for me to process through what I was going through, but helped me find real solutions. I could tell that Linda actually cared about my life, and this was not just a job for her. I am now completely out of that toxic situation, and Linda played a huge part of that. I now do not find myself in the same kinds of situations. Through counseling with her, I was able to make positive changes in my own life that I'm living the reality of today. I am thankful for her willingness to help myself and others through different kinds of struggles. I would highly recommend Linda to anyone, and would trust her outlook on any situation. She really is amazing."  Rebekah W. Toluca Terrace, CA
"I've had a fair share of therapists, but Linda is definitely top notch! She doesn't judge and she really makes you look at things in a whole new way. Linda truly cares about her patients and I think I'm a different person after having her as my therapist. I HIGHLY recommend her!" Jenna Los Angeles, CA
Because of my past, I can move forward.
"Paragraphs cannot even describe the life changing experience I had working with Linda Laffey. Four years after our six years working together, I am continually benefitting from our sessions in my day to day life.
Before meeting with Linda Laffey, the severity of my state called for immediate medical attention. Because of her brilliant work, patience and care: I am alive and strong.  I know many friends and family members that jump from therapist to therapist and never accomplish much.  Linda Laffey is dedicated to her patients the minute they walk into the door.  She works with you, not against you.  Even in the toughest of times, she guided me to see the possibilities as well as my accomplishments.  I am so beyond grateful I had the pleasure to work with her. Absolute 5 stars!"  – Camille R.   Manhattan, NY
"I crawled into Linda's office the first time after a life altering crisis that I never believed that I could feel better again. My emotional pain was so severe it left me crippled. When I think of Linda's unique motivating and listening skills she enabled me to see and feel life with a completely different set of lenses that I still use her helpful tools to this very day.  I have so much gratitude for her help that it's hard to put into words my eternal thankfulness for her one of a kind therapy.  Call her for an appointment and you will be so happy you did."  – Robyn S.   Los Angeles, CA
"About a year and a half ago I was struggling through a newfound depression. Although I was aware of the problem, I wasn't really sure how to handle it. Linda was recommended to me and I started seeing her once, sometimes twice a week. It became the high point of my week. Even though it took some time to analyze and figure out what I was going through, Linda made me feel like a priority, despite having many other patients, no doubt. During extreme low points, I found myself calling her and having her talk to me to straighten me out. Even though dealing with depression is mostly up to the individual, Linda helped me get into the right mindset to begin that process. I am immensely thankful." – Tanner S.  Thousand Oaks, CA.
"Linda Laffey is a professional and personable therapist who has given me many useful tools to navigate some of life's shark infested waters. Her ability to listen thoroughly and respond thoughtfully with helpful suggestions have helped me to move forward in life in a positive, empowered path.  Thank you, Linda!"  – Kim R.  LaConner, WA
"I had no idea how the long-forgotten traumas of my childhood were affecting my marriage today until working with Linda!  This was my first time working with a therapist so I wasn't sure what to expect, but I found the experience extremely rewarding and helpful.  Linda was able to provide unbiased insight into my struggles and shared with me a lot of wisdom about the human experience.  She knew how to listen for the real issues I've been dealing with, and provided me with a forum to be able to express myself openly and without judgement.  She is very open minded and present, which put me very much at ease.  It honestly feels like you are talking to a really close friend.  Everything about her is warm and inviting.
I like that she has an office in Encino as well as in Westlake Village, as I've seen her in both places, depending on my work schedule.  I would recommend her wholeheartedly to anyone looking for an excellent therapist.  What she's done for me is nothing short of magical."  –Steven M.   Harbor City, CA
"Linda has been a joy to work with.  She has a real passion for helping people.  I would highly recommend her to any of my friends or family!"  – Shay H.
"Linda has been a ray of light to me in an otherwise dark and complicated period in my life, one which I could not share with anyone but her. Thank you Linda." –JL
"Linda is kind, understanding, and thoughtful. She takes the time to pull apart every piece of my messages and help put them into a cohesive and helpful response. I'm very glad she's my counselor!"  – SG